Editors-in-Chief:

Prof. Dr. Fikret Çelebi, TURKEY;

Dr. Daryoush Babazadeh, DVM, DVSc, IRAN
» Cover Suggestion ...details

» Publisher Item Identifier ...details
Board Member Certificate: WVJ active members since 2012 till now: Dr. Arash omidi; Dr. Wesley Lyeverton Correia Ribeiro

...full information
KEYWORDS

HI, RAPD, Interferon-Gamma, Cytokines, Oxidative Stress, Turmeric, Gamma-irradiation, Staphylococcus aureus Newcastle Disease, Trypanosomes, Dicrocoelium dendriticum, Listeria monocytogenes, Echinococcosis, Hydatid, Pesticides, Protoscolex, Oreochromis aureus, Clarias sp., Mastitis, Degradability, Contaminant Bacteria, Nematode parasites, Wound Healing, Levamisole, Oxidative stress, Zoonosis, Treatment, Prevalence, Hematological parameters, Immune response, Biochemical parameters, Osteosynthesis, Bone Plating, Radiology, Heart girth, Live weight, Diastema, Morphometry, Drying system, Serum, Blood, Albumin, Globulin, Glucose, Soybean meal, Growth Performance, Production, Meat Parameters, Fermentation, Quality, Behaviour, nutritional status, Calving interval, Conception rate, Gestation, Lactation, Spoilage, General hygiene, Wildlife, Sheep, Quail, Ostrich, Rabbit, Dairy Cattle, Goats, Sheep, Dog, Catfish , Fish, Aflatoxins, Buffalo, Cutaneous Infections, Brucellosis, Antibiotic, Hygiene, Tuberculosis
WVJ Submission and Acceptance Rates

Year

Submission

Acceptance

2012

26

14 (53%)

2013

31

15 (48%)

2014

17

09 (52%)

2015

30

14 (46%)

2016

61

27 (44.2%)

The estimated time from submission to reviewer decision is 4 weeks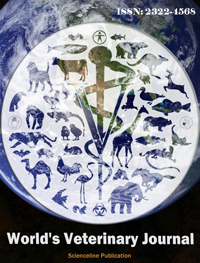 World's Veterinary Journal
ISSN: 2322-4568

Frequency: Quarterly

Current Issue: 2017, Vol: 7, Issue: 1 (25 March)

Publisher: SCIENCELINE

World's Veterinary Journal (ISSN 2322-4568) is an international, English language, peer reviewed open access journal aims to publish the high quality material from veterinary scientists' studies ... View full aims and scope


Table of contents
---
Retrospective Study on Survival Time of Cats with Mammary Carcinomas Undergoing Surgery Alone or with Adjuvant Chemotherapy.

Cunha SCS, Corgozinho KB, Souza HJM, Silva K, Leite J, Mello M and Ferreira AMR.

World Vet. J. 7(1): 30-35, 2017; pii:S232245681700005-7
---
Bovine Tuberculosis Prevalence, Potential Risk Factors and Its Public Health Implication in Selected State Dairy Farms, Central Ethiopia.

Ambaw Endalew M, Deresa B and Ameni Chimdi G.

World Vet. J. 7(1): 21-29, 2017; pii:S232245681700004-7
---
Isolation and Characterization of Bacterial Species from Respiratory Tracts of Cattle Slaughtered in Addis Ababa City, Central Ethiopia.

Kassahun Gebremeskel A, Sisay Tesema T, Awukew Yegoraw A, Tesfaye Birhanu B and Addisu Mekuria Sh.

World Vet. J. 7(1): 14-20, 2017; pii:S232245681700003-7
---
Resistant Gene of Pseudomonas Aeruginosa in Mastitic Cattle; Biochemical and Immunological Parameters.

Awad Ibrahim N, El-Metwally Farag VM, Abd-El-Moaty AM and Magdy Atwa S.

World Vet. J. 7(1): 05-13, 2017; pii:S232245681700002-7
---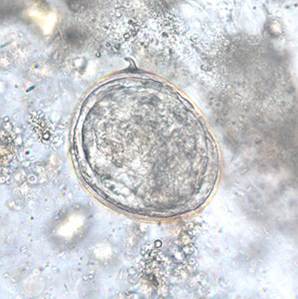 Research Paper
Prevalence and Associated Risk Factors of Bovine Schistosomiasis in Northwestern Ethiopia.

Kassahun Gebremeskel A, Tayelgn Simeneh S and Addisu Mekuria Sh.

World Vet. J. 7(1): 01-04, 2017; pii:S232245681700001-7
---
Research Paper

Constraints of Small-Scale Commercial Poultry Farms Analyzed by Garett's Ranking Technique in and around Debre Markos, Amhara Region, Ethiopia.
Bezabih Yitbarek M, Tamir Mersso B and Mengistu Wosen A.

World Vet. J. 6(4): 203-209, 2016; pii:S232245681600027-6
---
Research Paper

Molecular Detection of Streptococcus species Isolated from Cows with Mastitis.

Elsayed Eldesouky I, Allah Abd Elnaby Refae M, Saad Nada H and Ragab Hassb Elnaby G.

World Vet. J. 6(4): 193-202, 2016; pii:S232245681600026-6
---
Research Paper

Identification and Characterization of Virulence-Associated Genes from Pathogenic Aeromonas Hydrophila Strains.

Alaa El-Dein Omar A, Moustafa Moustafa E and Mamdouh Zayed M.

World's Vet. J. 6(4): 185-192, 2016; pii:S232245681600025-6
---
More ...


This work is licensed under a Creative Commons Attribution-NonCommercial 4.0 International License.