Editors-in-Chief:

Prof. Dr. Fikret Çelebi, TURKEY;

SCOPUS, NLM Catalog (NLM ID: 101688928), ScopeMed, RICeST, NAAS (Score: 3.96), Ulrich's™/ProQuest, UBTIB, SHERPA/RoMEO, Genamic, INFOBASE, ICV 2019= 115.91, ...full index information


» Full texts and XML articles are available in E-Journals Database (RICeST).

» This journal is in compliance with Budapest Open Access Initiative and International Committee of Medical Journal Editors' Recommendations.

» High visibility of articles over the Internet.
» This journal encourage the academic institutions in low-income countries to publish high quality scientific results, free of charges... view Review/Decisions/Processing/Policy
» Publisher Item Identifier ...details
Board Member Certificate: WVJ active members: Dr. Arash omidi; Dr. Wesley Lyeverton Correia Ribeiro

...full information
WVJ Submission and Acceptance Rates

Year

Submission

Acceptance

2012

26

14 (53%)

2013

31

15 (48%)

2014

17

09 (52%)

2015

30

14 (46%)

2016

61

27 (44.2%)

2017

45

18 (40%)

2018

43

17 (39.5%)

2019

109

43 (39.4%)

2020

231

81 (35.1%)

Submission to first decision: 4.9 weeks
Submission to final decision: 7.3 weeks
Article acceptance to final publication: 6 weeks
KEYWORDS

HI, RAPD, Interferon-Gamma, Cytokines, Oxidative Stress, Turmeric, Gamma-irradiation, Staphylococcus aureus Newcastle Disease, Trypanosomes, Dicrocoelium dendriticum, Listeria monocytogenes, Echinococcosis, Hydatid, Pesticides, Protoscolex, Oreochromis aureus, Clarias sp., Mastitis, Degradability, Contaminant Bacteria, Nematode parasites, Wound Healing, Levamisole, Oxidative stress, Zoonosis, Treatment, Prevalence, Hematological parameters, Immune response, Biochemical parameters, Osteosynthesis, Bone Plating, Radiology, Heart girth, Live weight, Diastema, Morphometry, Drying system, Serum, Blood, Albumin, Globulin, Glucose, Soybean meal, Growth Performance, Production, Meat Parameters, Fermentation, Quality, Behaviour, nutritional status, Calving interval, Conception rate, Gestation, Lactation, Spoilage, General hygiene, Wildlife, Sheep, Quail, Ostrich, Rabbit, Dairy Cattle, Goats, Sheep, Dog, Catfish , Fish, Aflatoxins, Buffalo, Cutaneous Infections, Brucellosis, Antibiotic, Hygiene, Tuberculosis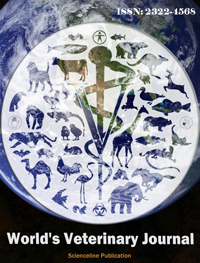 World's Veterinary Journal
ISSN: 2322-4568

Frequency: Quarterly

Current Issue: 2021, Vol: 11, Issue: 2 (June 25)
Publisher: SCIENCELINE
World's Veterinary Journal (ISSN 2322-4568) is an international, English language, peer reviewed open access journal aims to publish the high quality material from veterinary scientists' studies ... View full aims and scope

---
Prevalence of Avian Influenza H5N6 in Birds: A Systematic Review and Meta-analysis of Other Viral Zoonosis

Bonilla-Aldana DK, Holguin-Rivera Y, Cortes-Bonilla I, Cardona-Trujillo M.C., García-Barco A, Bedoya-Arias HA, Patiño-Cadavid LJ, Aguirre-Florez M, Balbin-Ramon GJ, ⁠ Erazo-Arana DC, Zambrano LI, Perez-Garcia L, Rodriguez-Morales AJ, and Paniz-Mondolfi A.

World Vet. J. 11(2): 146-156, 2021; pii:S232245682100020-11
---
Reviewing Effective Factors of Alimentary Deficiency in Animals Reproductive Functions

Skliarov P, Fedorenko S, Naumenko S, Onyshchenko O, Pasternak A, Roman L, Lieshchova M, Bilyi D, and Bobrytska O.

World Vet. J. 11(2): 157-169, 2021; pii:S232245682100021-11
---
The Broad Range of Coronaviruses Co-existing in Chiropteran: Implications for One Health
Bonilla-Aldana DK, Toro-Ortiz C, Jimenez-Salazar P, Guevara-Manso V, Jimenez-Diaz SD, Bonilla-Aldana JL, Gutierrez-Grajales EJ, Pecho-Silva S, Paniz-Mondolfi A, Suárez JA, Pachar MR, Martinez-Pulgarin DF, Zambrano LI, Soler-Tovar D, Rodriguez-Morales AJ, and Mattar S.

World Vet. J. 11(2): 170-180, 2021; pii:S232245682100022-11
---
A Retrospective Study on Dog Bite Associated Rabies in Human and the Use of Post-exposure Prophylaxis in Nepal during 2008 to 2017

Pal P, Shimoda H, Bashyal R, Yawongsa A, and Rukkwamsuk Th.

World Vet. J. 11(2): 181-186, 2021; pii:S232245682100023-11
---
Production of Newcastle Disease Polyclonal Antibody as the Alternative of Immunohistochemistry Primary Antibody against Newcastle Disease in Poultry.

Naf'an MKh, Kurniasih K, Untari T, and Prakoso YA.

World Vet. J. 11(2): 187-192, 2021; pii:S232245682100024-11
---
Transcriptional, Mitochondrial Activity, and Viability of Egyptian Buffalo's Granulosa Cells In Vitro Cultured under Heat Elevation

Ghanem N, Faheem MS, Samy R, and Barkawi AH.

World Vet. J. 11(2): 193-201, 2021; pii:S232245682100025-11
---
Supplementation of Moringa oleifera Leaf Meal in Layer Chickens' Feed: A Review

Gobezie E.

World Vet. J. 11(2): 202-207, 2021; pii:S232245682100026-11
---
Assessing the Chronic Poisoning of White Mice Affected by Mospilan RP and Actara 25 WG.

Dukhnytskyi V, Sokolyuk V, Kozii N, Ligomina I, Karpyuk V, and Honcharenko V.

World Vet. J. 11(2): 208-214, 2021; pii:S232245682100027-11
---
Analysis of Notifications of the Rapid Alert System concerning Parasites in Fishery Products.

Dahani S, Bouchriti N, and Elhariri O.

World Vet. J. 11(2): 215-227, 2021; pii:S232245682100028-11
---
Role of Elastin Expression in Thickening the Postpartum Vaginal Wall in Virgin and Postpartum Rat Models

Setyaningrum T, Listiawan MY, Tjokroprawiro BA, Santoso B, Prakoeswa CRS, and Widjiati W.

World Vet. J. 11(2): 228-234, 2021; pii:S232245682100029-11
---
Molecular Characterization of Chicken Anaemia Virus Circulating in Commercial Poultry Flocks in Egypt during 2020
Abdelhalim A, Samir A and Yehia N.

World Vet. J. 11(2): 235-241, 2021; pii:S232245682100030-11
---
Effect of Agro-ecological Zone, Age, and Sex on Prevalence and Intensity of Gastrointestinal Parasites in Donkeys in Maseru District, Lesotho

Nts'aoana ME, Molapo SM, and Kompi P.

World Vet. J. 11(2): 242-248, 2021; pii:S232245682100031-11
---
Effects of Genotype and Weaning Age Interaction on Growth Traits in Rabbits

Ragab M, Mostfa SMM, El-Kholy K.H., Radwan LM, El-Shafie A, and El-Ratel IT.

World Vet. J. 11(2): 249-256, 2021; pii:S232245682100032-11
---
The Effect of Dietary Inclusion of Whole Yeast, Extract, and Cell Wall on Production Performance and Some Immunological Parameters of Broiler Chickens

El-Manawey MA, Yousif EY, Abo-Taleb AM and Atta AM.

World Vet. J. 11(2): 257-262, 2021; pii:S232245682100033-11
---
The Effect of Essential Amino Acid (Lysine) in Commercial Feed of Patin Catfish (Pangasius sp.)

Yaqin MA, Agustono, and Lokapimasari W.

World Vet. J. 11(2): 263-266, 2021; pii:S232245682100034-11
---
Detection of Coxiella burnetii (query fever) DNA by nested-PCR in beef cattle from Ampel slaughterhouse, Boyolali Regency, middle java, Indonesia.

Nugroho EP, Setiyono A, Hadi UK, Winarsih W, and Astuti D.

World Vet. J. 11(2): 267-272, 2021; pii:S232245682100035-11
[Full text-PDF]

---
The Effect of Lipopolysaccharide Subunit Vaccine of Brucella abortus on Montanide ISA 70 Adjuvant on Sheep.

Khusnia F, Suwarno, and Yunus M.

World Vet. J. 11(2): 273-278, 2021; pii:S232245682100036-11
[Full text-PDF]

---
(GTG)5-PCR Mediated Molecular Typing of Zoonotic Bacteria.

Babazadeh D, and Ranjbar R.

World Vet. J. 11(2): 279-283, 2021; pii:S232245682100037-11
[Full text-PDF]
---
Effect of Lysine Supplementation in Commercial Feed on Energy Retention and Feed Conversion Ratio of Carp (Osphronemus gouramy).

Thaiin A, Agustono and Anam Al Arif M.

World Vet. J. 11(2):284-288, 2021; pii:S232245682100038-11
[Full text-PDF]

---
Clinical and Laboratory Findings in Dogs Undergoing Adjuvant Chemotherapy with Gemcitabine/Carboplatin Combination for Mammary Neoplasia.

Israel CB, Maués T, Ferreira AMR, and Ferreira MLG.

World Vet. J. 11(2): 289-299, 2021; pii:S232245682100039-11
[Full text-PDF]

---
Study of Pharmacokinetics of the Slow-release Drug in the Form of Moxidectin-Based Solution for Dogs and Cats.

Arisova GB, Arisov MV and Stepanova IA (2021).

World Vet. J. 11(2): 300-306, 2021; pii:S232245682100040-11
[Full text-PDF]
---
The Effect of Different Dietary Energy and Protein Sources on Blood Profile of Crossbreed Holstein Dairy Cows Raised in Small Stake Holder Farms.

Hudaya MF, Sitaresmi PI, and Widayati DT.

World Vet. J. 11(2): 307-312, 2021; pii:S232245682100041-11
[Full text-PDF]

---
The Grass Was Greener - Climate Change, One Health, and the High Hopes to Mitigate COVID-19, Avian Influenza, and other Zoonotic Emerging Diseases.

Bonilla-Aldana DK, Faccini-Martínez ÁA, Vallejo-Timaran DA, Bocanegra-Viteri FdeM, Ruiz-Saenz J, Paniz-Mondolfi AE, Rodriguez-Morales AJ, and Suárez JA.

World Vet. J. 11(2): 313-316, 2021; pii:S232245682100042-11
[Full text-PDF]

---
More ...
This work is licensed under a Creative Commons Attribution-NonCommercial 4.0 International License.
Last Updated (Saturday, 17 July 2021 22:35)