Manuscript Status/Contact
Editors-in-Chief:
Prof. Dr.
Fikret Çelebi,
Veterinary Physiology; Atatürk University, TURKEY;
Dr. Daryoush Babazadeh, DVM, DVSc (PhD) of Avian/Poultry Diseases, School of Veterinary Medicine, Shiraz University, Shiraz, IRAN; Emails: This e-mail address is being protected from spambots. You need JavaScript enabled to view it , This e-mail address is being protected from spambots. You need JavaScript enabled to view it ;
View full editorial board

Cover suggestion

...details
Indexed/covered by RICeST (ISC), Ulrich's™, OCLC, TOCs, TIB, Genamics, Google Scholar, IndexCopernicus (full index information)

Full texts and XML articles are available in

E-Journals Database (RICeST)

.

This journal is in compliance with

Budapest Open Access Initiative

and

International Committee of Medical Journal Editors'

Recommendations (ICMJE)

.

High visibility of articles over the Internet.
Board Member Certificate: WVJ active members since 2012 to till now are: Dr. Arash omidi; Dr. Wesley Lyeverton Correia Ribeiro

...full information
KEYWORDS
HI, RAPD, Interferon-Gamma, Cytokines, Oxidative Stress, Turmeric, Gamma-irradiation, Staphylococcus aureus Newcastle Disease, Trypanosomes, Dicrocoelium dendriticum, Listeria monocytogenes, Echinococcosis, Hydatid, Pesticides, Protoscolex, Oreochromis aureus, Clarias sp., Mastitis, Degradability, Contaminant Bacteria, Nematode parasites, Wound Healing, Levamisole, Oxidative stress, Zoonosis, Treatment, Prevalence, Hematological parameters, Immune response, Biochemical parameters, Osteosynthesis, Bone Plating, Radiology, Heart girth, Live weight, Diastema, Morphometry, Drying system, Serum, Blood, Albumin, Globulin, Glucose, Soybean meal, Growth Performance, Production, Meat Parameters, Fermentation, Quality, Behaviour, nutritional status, Calving interval, Conception rate, Gestation, Lactation, Spoilage, General hygiene, Wildlife, Sheep, Quail, Ostrich, Rabbit, Dairy Cattle, Goats, Sheep, Dog, Catfish , Fish, Aflatoxins, Buffalo, Cutaneous Infections, Brucellosis, Antibiotic, Hygiene, Tuberculosis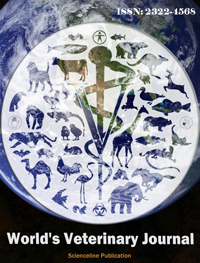 World's Veterinary Journal
Publication Data
ISSN: 2322-4568
Frequency: Quarterly
Current Volume: 6 (2016)
Current Issue: 2 (June)
Next Issue: 25 September 2016
Aims and Scope
World's Veterinary Journal (ISSN 2322-4568) is an international, English language, peer reviewed open access journal aims to publish the high quality material from veterinary scientists' studies. ... View full aims and scope

Table of contents
---
Research Paper

Isolation and Identification of Brucella Species from Dairy Cattle by Biochemical Tests: The First Report from Ethiopia.

Geresu MA, Ameni G, Wubete A, Arenas-Gamboa AM, Mamo Kassa G.

World Vet. J. 6(2): 80-88, 2016; pii:S232245681600012-6
---
Research Paper
Cadmium Bio-Accumulation and the Associated Biomarkers in Edible Frog Species (Hoplobatrachus Occipitalis) in Ibadan, Oyo State, Nigeria.

Abosede Olayemi O, Afusat Jagun J, Oluwatobi Felix A, Augustine Adewole A.

World Vet. J. 6(2): 70-79, 2016; pii:S232245681600011-6
---
Case Report

Diagnosis and Therapeutic Management of Tetanus in Female Buffalo Calf at Tandojam, Sindh, Pakistan.

Khan A, Abbas Raza SH, Saeed M, Arain MA, Shoaib M, Babazadeh D, Abbasi IHR, Muhammad Zakaria H, Ali Siyal F and Nawaz Soomro R.

World Vet. J. 6(2): 66-69, 2016; pii:S232245681600010-6
---
Research Paper

Cattle Fattening, Constraints and Marketing System in North Western Ethiopia.

Addisu Mekuria Sh.

World Vet. J. 6(2): 59-65, 2016; pii:S232245681600009-6
---
Species Variation on Gross Morphology and Gross Morphometry of Accessory Sex Glands in One-Humped Camel Bull (Camelus dromedarius), Uda Ram and Red Sokoto Buck.

Abdullahi Mahmud M, Josephat O, Sani Abdullahi Sh, U Muhammadu Aminu, Abdurrahman B, Hena Akawu S, Abubakar D and Shehu S.

World's Vet. J. 6(2): 53-58, 2016; pii:S232245681600008-6
---
Research Paper
Nutritive Value and Dry matter Disappearance of Sudanese Acacia Browse Leaves in Goat Nutrition.

Kamal Al shafei N and Nour A.

World Vet. J. 6(2): 46-52, 2016; pii:S232245681600007-6
---
Research Paper
Potassium Permanganate Alleviates the Potential Effect of Estrogenic Pollutants on Vitellogenin Gene Expression in Male Oreochromis niloticus.

Magdy Elgaabary A, Mahmoud Sh, Fahmy Saad M, Abdel Azeez Abdel Rahman A.

World Vet. J. 6(2): 38-45, 2016; pii:S232245681600006-6
---
Intestinal Ulceration in West African Mud Turtle (Pelusios Castaneus).

Folayemi O-A, Zainab Omolara A, Adenike O-A, Inalegwu Godwin O and Samuel Gbadebo O.

World Vet. J. 6(1): 34-37, 2016; pii:S232245681600005-6
[

Abstract

]
[Full text-

PDF

]
---
A Review Article of Artificial Insemination in Poultry.

Getachew T.

World Vet. J. 6(1): 25-33, 2016; pii:S232245681600004-6
---

Research Paper

Dog Bites and Rabies: A Decade Perspective in Nigeria (2005-2014)

Tekki SI, Odita CI, Idachaba ES, Akanbi BO, Moses DG, Barde JI, James AS, Rimfa AG, Kumbish PR, Agama C, Zhakom PN and Okewole PA

World Vet. J. 6(1): 19-24, 2016; pii:S232245681600003-6
---
Evaluation of Using Honey, Cool Water and Levamisole against Heat Stress on Different Traits of Rabbits under Egyptian Summer Conditions.

El Saidy NR., Allam FE, Balabel TM and El-Midany SA.

World Vet. J. 6(1): 10-18, 2016; pii:S232245681600002-6
---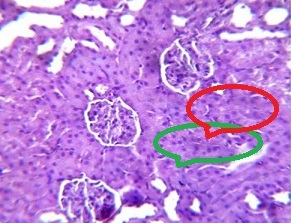 Research Paper
Effects of Drugs on Serum Biochemical Profile and Renal Failure in Humans and Experimental Rats: A Preliminary Report

Al shafei NK and Nour A

World Vet. J. 6(1): 01-09, 2016; pii:S232245681600001-6
---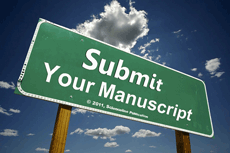 More ...



This work is licensed under a Creative Commons Attribution-NonCommercial 4.0 International License.
Unable to retrieve Items!