Editors-in-Chief:

Prof. Dr. Fikret Çelebi, TURKEY;

SCOPUS, NLM Catalog (NLM ID: 101688928), ScopeMed, RICeST, NAAS (Score: 3.96), Ulrich's™/ProQuest, UBTIB, SHERPA/RoMEO, Genamic, INFOBASE, ICV 2019= 115.91, ...full index information


» Full texts and XML articles are available in E-Journals Database (RICeST).

» This journal is in compliance with Budapest Open Access Initiative and International Committee of Medical Journal Editors' Recommendations.

» High visibility of articles over the Internet.
» This journal encourage the academic institutions in low-income countries to publish high quality scientific results, free of charges... view Review/Decisions/Processing/Policy
» Publisher Item Identifier ...details
Board Member Certificate: WVJ active members: Dr. Arash omidi; Dr. Wesley Lyeverton Correia Ribeiro

...full information
WVJ Submission and Acceptance Rates

Year

Submission

Acceptance

2012

26

14 (53%)

2013

31

15 (48%)

2014

17

09 (52%)

2015

30

14 (46%)

2016

61

27 (44.2%)

2017

45

18 (40%)

2018

43

17 (39.5%)

2019

109

43 (39.4%)

2020

231

81 (35.1%)

Submission to first decision: 4.9 weeks
Submission to final decision: 7.3 weeks
Article acceptance to final publication: 6 weeks
KEYWORDS

HI, RAPD, Interferon-Gamma, Cytokines, Oxidative Stress, Turmeric, Gamma-irradiation, Staphylococcus aureus Newcastle Disease, Trypanosomes, Dicrocoelium dendriticum, Listeria monocytogenes, Echinococcosis, Hydatid, Pesticides, Protoscolex, Oreochromis aureus, Clarias sp., Mastitis, Degradability, Contaminant Bacteria, Nematode parasites, Wound Healing, Levamisole, Oxidative stress, Zoonosis, Treatment, Prevalence, Hematological parameters, Immune response, Biochemical parameters, Osteosynthesis, Bone Plating, Radiology, Heart girth, Live weight, Diastema, Morphometry, Drying system, Serum, Blood, Albumin, Globulin, Glucose, Soybean meal, Growth Performance, Production, Meat Parameters, Fermentation, Quality, Behaviour, nutritional status, Calving interval, Conception rate, Gestation, Lactation, Spoilage, General hygiene, Wildlife, Sheep, Quail, Ostrich, Rabbit, Dairy Cattle, Goats, Sheep, Dog, Catfish , Fish, Aflatoxins, Buffalo, Cutaneous Infections, Brucellosis, Antibiotic, Hygiene, Tuberculosis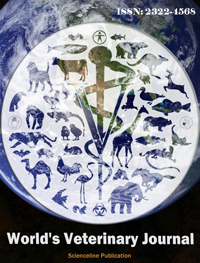 World's Veterinary Journal
ISSN: 2322-4568

Frequency: Quarterly

Current Issue: 2021, Vol: 11, Issue: 3 (September 25)
Publisher: SCIENCELINE
World's Veterinary Journal (ISSN 2322-4568) is an international, English language, peer reviewed open access journal aims to publish the high quality material from veterinary scientists' studies ... View full aims and scope

---
Veterinarians and Wildlife Biologists Should Join Forces to End Inhumane Mammal Trapping Technology.

Proulx G.

World Vet. J. 11(3): 317-318, 2021; pii:S232245682100043-11
---
Stray Animal Population Control: Methods, Public Health Concern, Ethics, and Animal Welfare Issues.

Abdulkarim A, Goriman Khan MAKhB, and Aklilu E.

World Vet. J. 11(3): 319-326, 2021; pii:S232245682100044-11

---
Comparison of Painful Response to Mechanical Stimulation of the Plantar and Dorsal Surface of Paw Following Chronic Constriction Injury-induced Neuropathic Pain.
Ghanbari A and Mohammadi M.

World Vet. J. 11(3): 327-332, 2021; pii:S232245682100045-11
---
Isolation and Molecular Characterization of Fowl Adenoviruses Associated with Inclusion Body Hepatitis-hydropericardium Syndrome in Broiler Chickens in Egypt.

Al Naguib MG, Morsy EA, Samir M, Khattab MS, Khelfa DG, and Abdel-Alim GA.

World Vet. J. 11(3): 333-342, 2021; pii:S232245682100046-11
---
Molecular Identification of Trypanosoma theileri and Biology of Trypanosomes.

Fentahun T and Paeshuyse J.

World Vet. J. 11(3): 343-367, 2021; pii:S232245682100047-11
---
Immunolocalization of Steroidogenic Enzymes (3β-hydroxysteroid dehydrogenase, 17β-hydroxysteroid dehydrogenase, and P450scc) in Rats with Testicular Dysfunction Treated with Mesenchymal Stem Cells-conditioned Medium.

Khasanah LM, Budipitojo T, and Fibrianto YH.

World Vet. J. 11(3): 368-376, 2021; pii:S232245682100048-11
---
The Influence of Basil Seed Hydroethanolic Extract on the Skin Wound Healing in Diabetic Male Rats.

Hadi M, Moghtadaei-Khorasgani E, and Etesamnia MH.

World Vet. J. 11(3): 377-383, 2021; pii:S232245682100049-11
---
Concurrent Respiratory Disease in Broiler Chickens in Egypt during 2020.

Yehia N, Amer F, Samir A, Samy M, Sedeek A, Rebie N, Mohammed W, and Hagag N.

World Vet. J. 11(3): 384-394, 2021; pii:S232245682100050-11
---
Molecular Detection and Antibiotic Sensitivity of Salmonella Species Isolated from Goat Feces in Sylhet District of Bangladesh.

Sabur MA, Das MR, Uddin MB, Rahman MM, Islam MR, Chowdhury MSR and Hossain MM.

World Vet. J. 11(3): 395-401, 2021; pii:S232245682100051-11
---
Antibiotic Resistance Profile of Escherichia coli Isolated from Bovine Subclinical Mastitis of Dairy Farms in Algeria from 2017 to 2019.

Ghallache L, Mohamed-Cherif A, China B, Mebkhout F, Boilattabi N, Bouchemal A, Rebia A, Ayachi A, Khelef D, Miroud K, and Ait-Oudhia Kh.

World Vet. J. 11(3): 402-415, 2021; pii:S232245682100052-11

---
More ...
This work is licensed under a Creative Commons Attribution-NonCommercial 4.0 International License.
Last Updated (Saturday, 11 September 2021 23:50)