Editors-in-Chief:

Prof. Dr. Fikret Çelebi, TURKEY;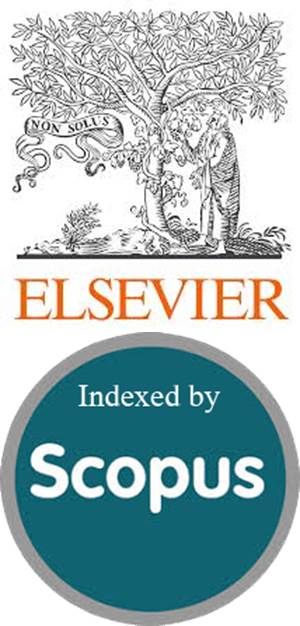 » Indexed/covered by
SCOPUS (CiteScore=0.3), NLM Catalog (NLM ID: 101688928), ScopeMed, RICeST, NAAS (Score: 3.96), Ulrich's™/ProQuest, UBTIB, SHERPA/RoMEO, Genamic, INFOBASE, ICV 2020= 111.98, ...full index information



» Digital Archiving: Journal Repository (eprints)
» Full texts and XML articles are available in E-Journals Database (RICeST).
» This journal is in compliance with Budapest Open Access Initiative and International Committee of Medical Journal Editors' Recommendations.

» High visibility of articles over the Internet through Gold Open Access.
» This journal encourage the academic institutions in low-income countries to publish high quality scientific results, free of charges... view Review/Decisions/Processing/Policy
» Publisher Item Identifier ...details
Board Member Certificate: WVJ active members: Dr. Arash omidi; Dr. Wesley Lyeverton Correia Ribeiro

...full information
WVJ Submission and Acceptance Rates

Year

Submission

Acceptance

2012

26

14 (53%)

2013

31

15 (48%)

2014

17

09 (52%)

2015

30

14 (46%)

2016

61

27 (44.2%)

2017

45

18 (40%)

2018

43

17 (39.5%)

2019

109

43 (39.4%)

2020

231

81 (35.1%)

2021

280

95 (33.9%)

Submission to first decision: 4.4 weeks
Submission to final decision: 7.7 weeks
Article acceptance to final publication: 6 weeks
KEYWORDS

HI, RAPD, Interferon-Gamma, Cytokines, Oxidative Stress, Turmeric, Gamma-irradiation, Staphylococcus aureus Newcastle Disease, Trypanosomes, Dicrocoelium dendriticum, Listeria monocytogenes, Echinococcosis, Hydatid, Pesticides, Protoscolex, Oreochromis aureus, Clarias sp., Mastitis, Degradability, Contaminant Bacteria, Nematode parasites, Wound Healing, Levamisole, Oxidative stress, Zoonosis, Treatment, Prevalence, Hematological parameters, Immune response, Biochemical parameters, Osteosynthesis, Bone Plating, Radiology, Heart girth, Live weight, Diastema, Morphometry, Drying system, Serum, Blood, Albumin, Globulin, Glucose, Soybean meal, Growth Performance, Production, Meat Parameters, Fermentation, Quality, Behaviour, nutritional status, Calving interval, Conception rate, Gestation, Lactation, Spoilage, General hygiene, Wildlife, Sheep, Quail, Ostrich, Rabbit, Dairy Cattle, Goats, Sheep, Dog, Catfish , Fish, Aflatoxins, Buffalo, Cutaneous Infections, Brucellosis, Antibiotic, Hygiene, Tuberculosis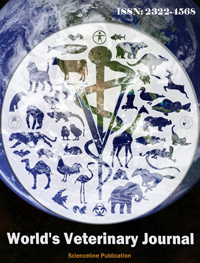 World's Veterinary Journal
ISSN: 2322-4568

Frequency: Quarterly

Current Issue: 2022, Vol: 12, Issue: 3 (September 25)
DOI Prefix: 10.54203
Publisher: SCIENCELINE
World's Veterinary Journal (WVJ, ISSN: 2322-4568) is an international, English language, peer-reviewed open access journal known as a source for high-quality articles in fields of veterinary medicine and animal science ... view full aims and scope

---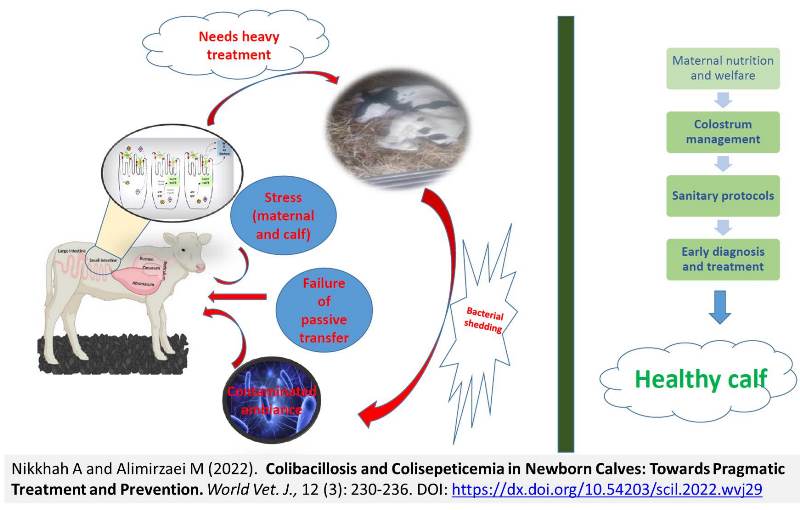 Review GA (.pdf)
Colibacillosis and Colisepeticemia in Newborn Calves: Towards Pragmatic Treatment and Prevention
Nikkhah A and Alimirzaei M

World Vet. J. 12(3): 230-236, 2022; pii:S232245682200029-12
DOI: https://dx.doi.org/10.54203/scil.2022.wvj29

---
Improved Dot-ELISA Assay Using Purified Sheep Coenurus cerebralis Antigenic Fractions for the Diagnosis of Zoonotic Coenurosis

El Akkad DMH, Ramadan RM, Auda HM, Abd El-Hafez YN, El-Bahy MM, and Abdel-Radi S.

World Vet. J. 12(3): 237-249, 2022; pii:S232245682200030-12
DOI: https://dx.doi.org/10.54203/scil.2022.wvj30

---
Impact of Colchicine on Histology of Testis in Rats
Abdullah RA, Ismail HKh, and Ghanim A-HA.

World Vet. J. 12(3): 250-259, 2022; pii:S232245682200031-12
DOI: https://dx.doi.org/10.54203/scil.2022.wvj31

---
Phytochemical and Antibacterial Effects of Leaf Extract from Mangrove Plant (Avicennia Marina) on Vibrio Parahaemolyticus in Shrimps

Azis, Salim G, Indarjo A, Prakoso LY, Hartati R, Daengs AGS, Meiryani, Aslan LOM, Ransangan J, and Rozi.

World Vet. J. 12(3): 260-265, 2022; pii:S232245682200032-12
DOI: https://dx.doi.org/10.54203/scil.2022.wvj32

---
Immunogenicity and Efficacy of a Bivalent Inactivated Vaccine against Rabbit Hemorrhagic Disease Virus

Abodalal SESA, Abdrabo MA, and Omar LM.

World Vet. J. 12(3): 267-273, 2022; pii:S232245682200033-12
DOI: https://dx.doi.org/10.54203/scil.2022.wvj33

---
Improving Bacterial, Oxidative, and Sensory Quality of Meat Steaks Using Cumin, Garlic, and Thyme Essential Oils

Atia TS, Moustafa EA, and Ibrahim SI.

World Vet. J. 12(3): 274-283, 2022; pii:S232245682200034-12
DOI: https://dx.doi.org/10.54203/scil.2022.wvj34

---
Comparative Analysis of One-step and Two-step Dilution on Quality of Frozen Semen in Kintamani Dogs

Sulabda IN, Dharmayudha AAGO, and Puja IK.

World Vet. J. 12(3): 284-289, 2022; pii:S232245682200035-12
DOI: https://dx.doi.org/10.54203/scil.2022.wvj35

---
Canine Dystocia: The Risk Factors and Treatment Methods in Dogs of Hanoi, Vietnam

Long STh, Hien NThTh, Hang PhTh, Hoai NTh, and Bach PhX.

World Vet. J. 12(3): 290-295, 2022; pii:S232245682200036-12
DOI: https://dx.doi.org/10.54203/scil.2022.wvj36

---

This work islicensed under a Creative Commons Attribution 4.0 International License (CC BY 4.0).
Last Updated (Saturday, 24 September 2022 15:55)