Previous issue | Next issue | Archive
Volume 11 (3); September 25, 2021 [in-press]

---
Veterinarians and Wildlife Biologists Should Join Forces to End Inhumane Mammal Trapping Technology.

Proulx G.

World Vet. J. 11(3): 317-318, 2021; pii:S232245682100043-11
ABSTRACT
Current mammal trapping standards uphold the use of inhumane trapping technology. For example, killing neck snares for the capture of canids, and rotating-jaw traps, and steel-jawed leghold traps for procyonids and mustelids, are being used by trappers despite decades of research showing that they are inhumane, and cause serious injuries and distress in captured animals. Many wildlife biologists unsuccessfully raised concerns about inhumane mammal trappings. This short communication stresses the need for veterinarians and wildlife biologists to work together to improve the fate of mammals captured in killing or restraining traps, and modify mammal trapping standards on the basis of animal welfare science.
Keywords: Humaneness, Mammal trapping, Traps, Trapping standards

[Full text-PDF] [XML] [Google Scholar]

---
Stray Animal Population Control: Methods, Public Health Concern, Ethics, and Animal Welfare Issues.

Abdulkarim A, Goriman Khan MAKhB, and Aklilu E.

World Vet. J. 11(3): 319-326, 2021; pii:S232245682100044-11
ABSTRACT
Stray animal overpopulation has become one of the most serious global problems with many negative impacts on the community, environment, and public health. Most of the stray animals do not depend on humans for food and shelter, and therefore, can reproduce uncontrollably. The uncontrolled reproduction of stray animals increases their population that leads to a higher chance of predation, road traffic accidents, transmission of zoonotic diseases, and therefore, becoming vectors for some diseases. There are several methods for stray animal population control depending on the situation and the nature of the stray animals. These methods include contraceptives, trap-neuter-return, poisoning, euthanasia, and gun shooting among others. Each of the outlined methods has its advantages and disadvantages as to their practicality, ease of conducting, cost, effectiveness, ethics, and animal welfare issues. In conclusion, to achieve successful control measures of the stray animal population and the problem they create, the concerned authorities need to design and enact animal rights laws, provide medical care (treatment and vaccination), feeding, shelter for the animals, and control their reproduction. Public health and environmental agencies may improve the services by regulating personal and environmental hygiene, prevention, and control of zoonotic and transmissible diseases that can be transmitted from stray animals to the public and other livestock respectively.
Keywords: Animal welfare, Ethics, Population control methods, Public health, Stray animals

[Full text-PDF] [XML] [Google Scholar]

---
Comparison of Painful Response to Mechanical Stimulation of the Plantar and Dorsal Surface of Paw Following Chronic Constriction Injury-induced Neuropathic Pain.
Ghanbari A and Mohammadi M.

World Vet. J. 11(3): 327-332, 2021; pii:S232245682100045-11
ABSTRACT
Mechanical and thermal stimuli were used to evaluate neuropathic pain-like behavior in animal models usually. Mechanical stimulation of paw plantar surface is commonly used to determine mechanical allodynia. In the present study, paw withdrawal response to plantar surface stimulation was compared with paw withdrawal response to dorsal surface stimulation. To this end, a total of 30 female Wistar rats (180-220 g), were assigned randomly to three groups as intact (without any manipulation), sham (incision of skin and muscles without nerve injury), and neuropathy (sciatic nerve lesion) with 10 in each group. To induction of neuropathy (chronic constriction injury), four movable ligations were established around the sciatic nerve using catgut chromic suture with a distance of one millimeter apart and then wound incision was closed. In the sham group, the incision site was closed without nerve ligation. Mechanical allodynia was examined by Von Frey filaments for four weeks. The findings indicated that the paw withdrawal threshold following dorsal surface stimulation was significantly reduced compared to the sham group at day 21 post-surgery. Moreover, paw withdrawal threshold following plantar surface stimulation significantly decreased compared to the sham group at day 21 post-surgery. The present results regarding the sham group showed that the paw withdrawal threshold after mechanical stimulation of the plantar surface was not significantly different from that of the dorsal surface paw. In addition, and there was no significant difference between the paw withdrawal response to plantar surface and dorsal one. In conclusion, paw withdrawal threshold to plantar surface mechanical stimulation was not significantly different from one in dorsal surface following neuropathic pain induced by chronic constriction injury.
Keywords: Mechanical allodynia, Neuropathic pain, Paw dorsal surface, Paw plantar surface, Rat

[Full text-PDF] [XML] [Google Scholar]
---
Isolation and Molecular Characterization of Fowl Adenoviruses Associated with Inclusion Body Hepatitis-hydropericardium Syndrome in Broiler Chickens in Egypt.

Al Naguib MG, Morsy EA, Samir M, Khattab MS, Khelfa DG, and Abdel-Alim GA.

World Vet. J. 11(3): 333-342, 2021; pii:S232245682100046-11
ABSTRACT
Avian adenoviruses are an extremely diversified group of pathogens that recently triggering a variety of problems for poultry production. In particular, Inclusion Body Hepatitis-Hydropericardium Syndrome (IBH-HPS), which has been observed in broiler birds from 3 to 6 weeks of age and is associated with anemia, hemorrhagic disorders, hydropericardium, and high mortality. The disease has been reported worldwide, and recently it was reported in many Egyptian farms, causing severe economic losses. Therefore, the current study aimed to isolate, and genetically type the most common Adenovirus serotypes associated with this syndrome in Egyptian farms. A total of 50 broiler chicken farms (3-6 weeks old) located in different Egyptian governorates were examined. Macroscopically, the diseased flock revealed hydropericardium, enlarged friable livers with ecchymotic hemorrhages, and varying mortality rates (1 to 7.5%). Histopathologically, severe diffuse necrotizing enteritis, hepatitis, pericarditis, and diffuse lymphoid depletion of the spleen were the most prominent lesions. Liver tissues and cloacal swabs were collected from all examined flocks for FAdVs detection by conventional polymerase chain reaction (PCR) targeting the L1 loop in the hexon gene. The PCR products were sequenced for typing of the detected viruses. It was found that 10 out of 50 flocks examined were PCR positive for FAdVs (20%). Phylogenetic analysis of the sequenced genes revealed that the obtained viruses clustered with reference strains belonging to FAdV type D and E serotype 2, 11, and 8a respectively. The isolation of both FAdV type D and FAdV type E were carried out on a primary cell culture chicken embryo liver cell (CEL) and the presence of these viruses was confirmed by PCR after the appearance of cytopathic effect (CPE). From this study, it could be concluded that both FAdVs types D and E are the most common adenoviruses circulating in poultry farms suffering from hydropericardium and inclusion body hepatitis.
Keywords: Broiler chicken, Chicken embryo liver cell, Fowl adenovirus, Hexon gene, Histopathology, Inclusion body hepatitis–hydropericardium syndrome, PCR

[Full text-PDF] [XML] [Google Scholar]
---
Molecular Identification of Trypanosoma theileri and Biology of Trypanosomes.

Fentahun T and Paeshuyse J.

World Vet. J. 11(3): 343-367, 2021; pii:S232245682100047-11
ABSTRACT
Trypanosoma theileri (T. theileri ) is a non-pathogenic, cosmopolitan, and commensal protozoa of cattle. The main objective of the current study was to investigate the biology and feasibility of T. theileri as a model candidate for the discovery of a novel drug. In the present study, the isolates of T. theileri obtained from the Institute of Tropical Medicine (ITM) in SDM 79 were cultivated at 26oC. Eight experiments with different inoculum and different times were grown. The growth curve was plotted to check the growth trends. The doubling time in the logarithmic phase was determined to be 17.43 hours. In addition, an experimental infection was done on a 3-month-old Holstein Friesian calf to isolate the blood-streaming shape; however, it was not successful after the blood buffy coat smear and PBMC culture in RPMI 1640 and HMI 9. Furthermore, the viability was determined by quantitative colorimetric Resazurin assay in 96-well fluorescence Microplates containing 0.4 to 2.4 mM of Resazurin. On the other hand, the response to Pentamidine (1-100 ng/mL) showed a strong negative correlation between the fluorescence signal and the highest Pentamidine concentration. IC50 was 9.25 ng/mL. Genomic DNA was extracted using the phenol-chloroform method. The gradient PCR amplification using T. theileri specific PCR (Tth625-PCR) primers was detected at 465 base pair (bp). In addition, the full-length 18S rDNA sequence was detected at 730 bp. In the silico analysis using common anti-trypanosome drug targets, no significant similarity could be found on either the DNA or the protein level. Nevertheless, homologous sequences have been identified among the drug targets for Ornithine decarboxylase. Therefore, the analysis might show the possibility of using T. theileri as a model for the search of new drugs once they have entire genome sequences. Analysis of the whole genome and transcriptome indicated a phylogenetic relationship between T. theileri and other pathogenic trypanosomes which can be the basis for novel drug development.
Keywords: Drug model, Novel drug, PCR, Resazurin, SDM 79, Trypanosoma theileri

[Full text-PDF] [XML] [Google Scholar]
---
Immunolocalization of Steroidogenic Enzymes (3β-hydroxysteroid dehydrogenase, 17β-hydroxysteroid dehydrogenase, and P450scc) in Rats with Testicular Dysfunction Treated with Mesenchymal Stem Cells-conditioned Medium.

Khasanah LM, Budipitojo T, and Fibrianto YH.

World Vet. J. 11(3): 368-376, 2021; pii:S232245682100048-11
ABSTRACT
About 60-80 million couples in the world are suffering from infertility disease. Infertility is a major problem in patients coping with chemotherapy. The chemotherapy process can degenerate non-target organs, especially in testes. Infertility in male or testicular dysfunction is caused by the failure of proliferation and differentiation of the spermatogenic cells. Many studies reported that mesenchymal stem cells-conditioned medium promoted regenerative processes. The present study aimed to investigate the effect of mesenchymal stem cells-conditioned medium on the cisplatin-induced testicular dysfunction by examining the immunolocalization of steroidogenic enzymes, such as 3β-hydroxysteroid dehydrogenase, 17β-hydroxysteroid dehydrogenase, and P450scc which are considered as markers of steroid production. All experimental animals were divided into three groups, namely the control group, mesenchymal stem cells-conditioned medium treated group with an injection dose of 0.2 ml/kg body weight (BW, P1), and mesenchymal stem cells-conditioned medium treated group with an injection dose of 0.5 ml/kg BW (P2). Cisplatin was injected into both treated groups to induce testicular dysfunction. The testicular tissues were processed by the paraffin method, then cut to a thickness of 5 µm, followed by immunohistochemical staining. The HSD3B1 immunoreactivities were found only in Leydig cells, and the intensity increased every week after the injection of mesenchymal stem cells-conditioned medium. The variety of weeks and groups was significantly different in the number of immunoreactive cells of HSD3B1. The results indicated a significant difference between one week after the first injection and the one week after the third and fourth injection. The findings showed a significant difference between the treated group with an injection dose of 0.2 ml/kg BW and the control group. The number of immunoreactive cells of HSD3B1 with an injection dose of 0.5 ml/kg BW was greater compared to the group that received an injection dose of 0.2 ml/kg BW. The intensity of HSD3B1 and HSD17B1 increased every week. The p450scc immunoreactive cells were only found in Leydig cells. The intensity of positive cells of p450scc in the treated group with an injection dose of 0.5 ml/kg BW was more intense, compared to the treated group with an injection dose of 0.2 ml/kg BW. The results of the current study showed that the injection of mesenchymal stem cells-conditioned medium can improve the regeneration of spermatogenic cells, and recover spermatogenesis proved by positive cells of HSD3B1, HSD17B1, and p450scc as markers of steroid production.
Keywords: Cisplatin, HSD17B1, HSD3B1, Mesenchymal stem cells-conditioned medium, P450scc, Testicular dysfunction
[Full text-PDF] [XML] [Google Scholar]
---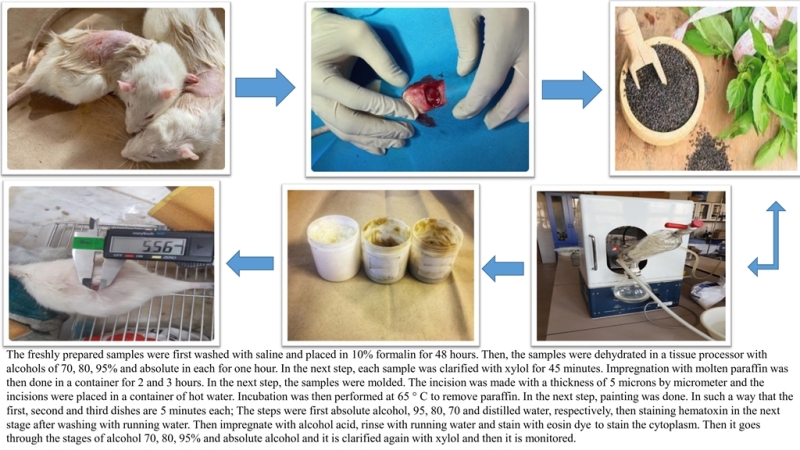 Download GA as PDF
Research Paper

The Influence of Basil Seed Hydroethanolic Extract on the Skin Wound Healing in Diabetic Male Rats.

Hadi M, Moghtadaei-Khorasgani E, and Etesamnia MH.

World Vet. J. 11(3): 377-383, 2021; pii:S232245682100049-11
ABSTRACT
Diabetic wounds and cutaneous wounds are important issues in medical science. Basil is an herbaceous plant and has compounds such as terpenes, flavonoids, and antioxidant properties. A total of 50 male Wistar rats were allocated into 10 groups including the healthy group without treatment, the healthy group treated with 1% phenytoin, eucerin, 5% basil seed extract, 10% basil seed, diabetic group without treatment, 1% phenytoin, eucerin. After anesthesia of rats, we made a 4 cm2 wound on the back of the animal, and different histopathological characteristics were examined, and also on days 3, 7, and 21, the area of wounds was analyzed. In the healthy group treated with 10% basil seed extract, it was revealed that the wound size was significantly healed in the research days. In the diabetic rat groups, the decrease in the wound area was not significant and there was no significant difference between groups. Histopathological findings on day 21 in the healthy group treated with 10% basil seed extract revealed proper epidermis formation and relatively dense dermis containing collagen filaments. While in the diabetic groups, healing was slower. The results indicated that basil extract with anti-inflammatory and antioxidant characteristics can quicken the repair of cutaneous wounds.
Keywords: Basil, Diabetes, Histopathology, Wound
[Full text-PDF] [XML] [Google Scholar]
---
Concurrent Respiratory Disease in Broiler Chickens in Egypt during 2020.

Yehia N, Amer F, Samir A, Samy M, Sedeek A, Rebie N, Mohammed W, and Hagag N.

World Vet. J. 11(3): 384-394, 2021; pii:S232245682100050-11
ABSTRACT
Poultry production has been affected by multiple respiratory diseases triggering serious economic losses in Egypt. The current study aimed to investigate the situation and genetic evolution of respiratory diseases in Egypt during 2020. A total of 53 samples were collected from infected flocks suffered from respiratory signs and variable mortality rates from nine governorates in Egypt during 2020. The collected samples were examined for the detection of respiratory disease viruses (Avian influenza virus (AIV (H5N8, H9N2), Infectious bronchitis virus (IBV), and Newcastle disease virus (NDV)) by rRT-PCR. The single infection was confirmed in 90.6% (37.7% I.B, 30.2% AIV (H5N8), 9.4% I.B and 5.7% NDV) and co-infection of HPAIV (H5N8) + I.BV and LPAIV (H9N2) +IBV were detected in 3.8% of nine governorates. The HA gene of HPAIV (H5N8) was cluster to clad 2.3.4.4.1b in a new branch with characteristic specific mutations especially in T140A in antigenic site A and R72S in the receptor-binding site, compared to A/duck/Egypt/F446/2017 with low A.A identity percent with vaccinal strains of H5N1 and H5N2 reaching to 91.9-94% and 84.6%, respectively. The HA gene of AIV (H9N2) belonged to A/quail/Hong Kong/G1/97-like virus clustered with group B with a specific mutation (212I) that may affect the human transmission of the virus. The HVRs of S1 gene of IBV cluster to GI23 (Egy Var I) clad with multiple mutations in HVR1 and HVR2, compared to IBV/CU/4/2014 and low identity percent (68.3-78.8%) with vaccine strains (H120, M41, 4/91). In conclusion, respiratory disease continues to circulate and rapidly evolved in Egypt during 2020.
Keywords: HPAIV (H5N8), IBV, Genetic characterization, LPAIV(H9N2), Respiratory disease
[Full text-PDF] [XML] [Google Scholar]
---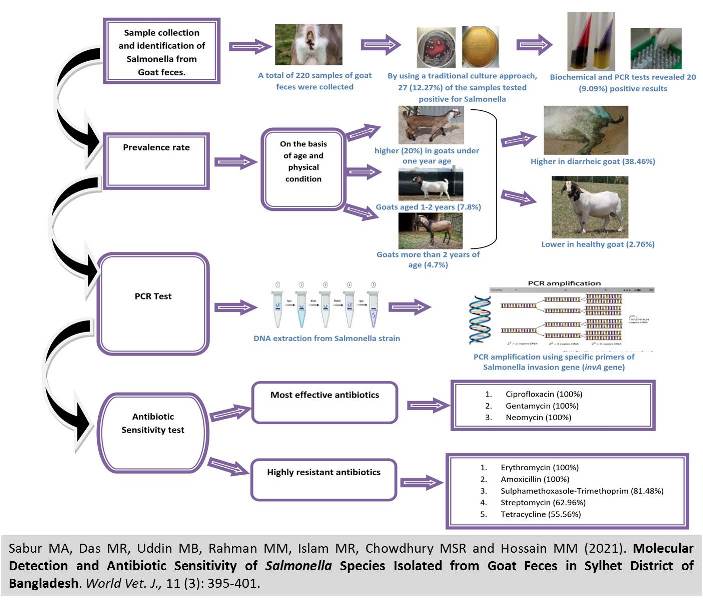 Download GA as PDF
Research Paper

Molecular Detection and Antibiotic Sensitivity of Salmonella Species Isolated from Goat Feces in Sylhet District of Bangladesh.

Sabur MA, Das MR, Uddin MB, Rahman MM, Islam MR, Chowdhury MSR and Hossain MM.

World Vet. J. 11(3): 395-401, 2021; pii:S232245682100051-11
ABSTRACT
The present study aimed at the molecular detection of Salmonella species from feces of goats and the characterization of the isolated Salmonella by biochemical and antimicrobial sensitivity techniques. A total of 220 goat feces samples were collected, of which 27 (12.27%) were positive for Salmonella by conventional culture methods and 20 (9.09%) by biochemical and PCR techniques. The prevalence was higher in goats under one year of age (20%), compared to older animals aged one to two years (7.8%) and more than two years of age (4.7%), respectively. Moreover, the prevalence of diarrheic goats was significantly higher (38.46%) than healthy animals (2.76%). DNA was extracted from Salmonella strains and amplified by PCR using the specific primers of Salmonella invasion gene (invA gene). The antibiotic sensitivity test indicated that Ciprofloxacin (100 percent sensitivity), Gentamycin (100 percent sensitivity), and Neomycin (100 percent sensitivity) were the most effective antibiotics for the majority of Salmonella isolates. On the other hand, Salmonella isolates were found to have substantially high resistance to Erythromycin (100%), Amoxicillin (100%), Trimethoprim-Sulfamethoxazole (81.48%), Streptomycin (62.96%), and Tetracycline (55.56 percent). Since the rate of Salmonella carriers was relatively high, eating goat meat could increase the risk of foodborne salmonellosis.
Keywords: Antibiotic sensitivity, Goat isolation, PCR detection, Salmonella
[Full text-PDF] [XML] [Google Scholar]

---
Antibiotic Resistance Profile of Escherichia coli Isolated from Bovine Subclinical Mastitis of Dairy Farms in Algeria from 2017 to 2019.

Ghallache L, Mohamed-Cherif A, China B, Mebkhout F, Boilattabi N, Bouchemal A, Rebia A, Ayachi A, Khelef D, Miroud K, and Ait-Oudhia Kh.

World Vet. J. 11(3): 402-415, 2021; pii:S232245682100052-11
ABSTRACT
Mastitis in cows is a major problem in dairy farms leading to a decrease in the quantity and quality of milk. The aim of the present study was to examine the association between the presence of Escherichia coli (E. coli) in milk and the subclinical mastitis, and to characterize the antibiotic resistance profiles of the isolated E. coli. In the current study, a total of 360 cow raw milk samples from three dairy farms of the region of Algiers were analyzed. The analysis period lasted from Spring 2017 to Winter 2019. The California Mastitis Test (CMT) was applied to detect subclinical mastitis. The E. coli strains were isolated from milk using conventional bacteriological methods. The antibiotic resistance profile of the isolated E. coli strains to 12 different antibiotics was tested using the disk diffusion method. On β-lactamase-producing strains, a double diffusion test was applied to identify the Extended-spectrum β-lactamase (ESBL) phenotype. Finally, the ctXx-M genes were amplified by PCR. Two-thirds (66.4%) of the milk samples were positive for the CMT test. A total of 97 E. coli strains were isolated from the milk samples, their resistance to antibiotics was tested, and 3.1% of the strains were resistant to trimethoprim-sulfamethoxazole, 6.2% to chloramphenicol, 12.3% to gentamicin, 13.4% to colistin, 23.3% to amoxicillin/clavulanate, 31.9% to kanamycin, 39.2% to enrofloxacin, 51.5% to cefotaxime, 52% to tetracycline, 57.7% to ampicillin, 74.3% to nalidixic acid, and 75.3% to amoxicillin. Furthermore, most of the E. coli strains (92.8%) were resistant to more than one antibiotic with a Multiple Antibiotic Resistance index ranging from 0 to 0.8. The 50 strains resistant to cefotaxime were analyzed for an ESBL phenotype. 39 of them (78%) were positive to the double-disk synergy test. Among the 39 ESBL positive strains, 27 (69.2%) were confirmed for the presence of a CTX-M gene by PCR. The present study showed that multiple drug-resistant E. coli, including ESBL-carriers, were frequently isolated from the milk of dairy cows in Algeria. The results underlined that the use of antibiotics on farms must be reasoned to avoid the spread of resistant strains in animals and human populations.
Keywords: Antibiotic Resistance, Cows, CTX-M gene, Escherichia coli, Milk, Subclinical Mastitis

[Full text-PDF] [XML] [Google Scholar]
---
Previous issue | Next issue | Archive

This work is licensed under a Creative Commons Attribution-NonCommercial 4.0 International License.