Previous issue | Next issue | Archive
---
Newcastle Disease Virus in Poultry: Current Status and Control Prospects

Moustapha A, Talaki E, Akourki A, and Ousseini M.

World Vet. J. 13(2): 240-249, 2023; pii:S232245682300026-13
DOI: https://dx.doi.org/10.54203/scil.2023.wvj26

ABSTRACT: Since its first appearance in Java Island, Indonesia, in 1926, Newcastle disease has significantly impacted the global poultry industry, leading to substantial economic losses. The disease has rapidly spread worldwide, becoming endemic in many countries where agriculture is the primary source of national income. The present study aimed to present a comprehensive review of the recent literature on the Newcastle disease virus to contribute to understanding the virus and its control measures in poultry and provide an updated perspective on current knowledge. All strains of the Newcastle disease virus are classified under a single serotype; however, they are grouped into two classes and have been found to have emerging genetic diversity. Although various molecular diagnostic protocols have been developed, many have limitations. Nucleotide variability in the F gene of the Newcastle disease virus seems to explain the false-negative results provided by different real-time reverse transcription polymerase chain reaction protocols. Vaccination combined with biosecurity measures has been shown to limit the devastating effect of the Newcastle disease virus. However, the current vaccines are not effective enough to prevent viral shedding and infection of vaccinated animals. The efficacy of the vaccine strains utilized for decades is being scrutinized, raising questions about their effectiveness over time. The development of reverse genetics offers promising prospects for exploring new generations of attenuated vaccines capable of protecting poultry against clinical diseases and infections, such as Newcastle disease.
Keywords: Diagnosis, Genotype, Newcastle disease, Pathogenicity, Poultry, Vaccination

[Full text-PDF] [Crossref Metadata] [Scopus] [Export from ePrint] [How to Cite]

---
Management Updates on Prepartal Stress Effects on Transition Cow and Calf Health

Nikkhah A, and Alimirzaei M.

World Vet. J. 13(2): 250-257, 2023; pii:S232245682300027-13
DOI: https://dx.doi.org/10.54203/scil.2023.wvj27

ABSTRACT: The transition phase is thought to be the most critical period in high-producing dairy cows' productive cycle. Maternal stresses during the peripartum period affect both dam and newborn calf health. The objective of this review article was to describe the role of prepartal metabolic and environmental stressors on postpartum-related disorders in both cows and newborn calves. The transition phase (21 d before to 21 d after calving) is considered the most critical period in dairy cattle life. Decreased dry matter intake coincides with increased nutrient demands due to the onset of lactation. It can lead to negative energy balance and tremendous metabolic challenges for high-producing dairy cows. During this time, insulin concentrations and peripheral tissue sensitivity decrease, leading to fat mobilization from adipose tissue. Such incidences would increase levels of non-esterified fatty acids and beta-hydroxybutyric acid in plasma. The success in the transition from the dry to lactating phase depends on how the cow could deal with such challenges. Failure to handle such metabolic alterations may predispose cattle to costly metabolic disorders such as ketosis, fatty liver, retained placenta, displacement abomasum, and infectious diseases, including metritis and mastitis in the postpartum period. The energy content of dairy cow diets in the dry-off (40 days before calving) or close-up (21 days before calving) periods may influence cow physiology and health in the peripartum period. The role of a transition period diet on cow health and productivity in the early or overall lactation period has been frequently investigated. However, the role of stressors such as nutritional deficiencies, heat stress, stocking density, and grouping in the late gestation period on the health and performance of cows and calves are much less addressed. Therefore, the present review delineates and reviews updates on the role of maternal stresses during the peripartum period on dam as well as newborn calf physiology and behavior.
Keywords: Immunity, Management, Metabolic disease, Prepartal stress, Transition cow

[Full text-PDF] [Crossref Metadata] [Scopus] [Export from ePrint] [How to Cite]

---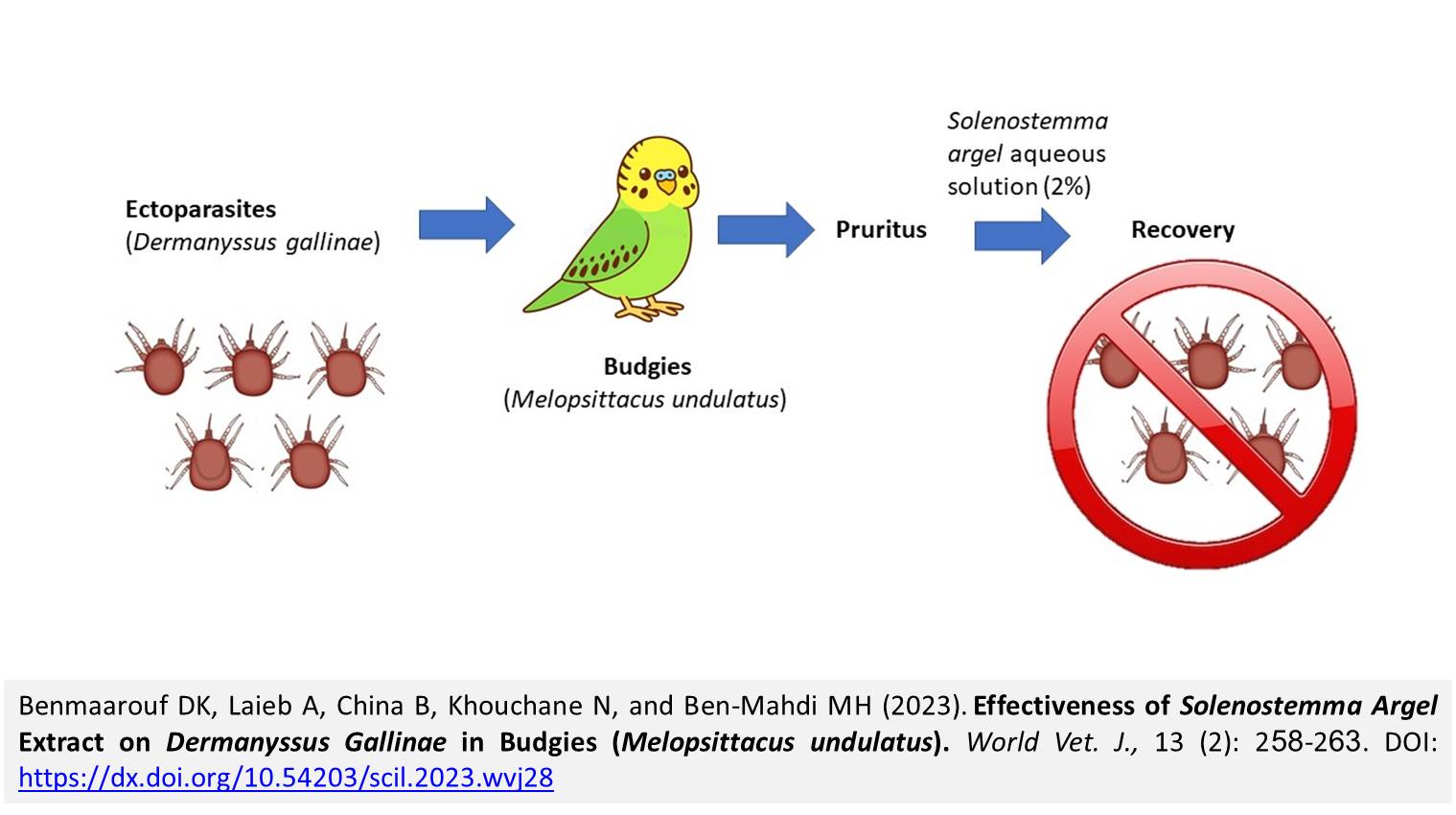 Research Paper
Effectiveness of Solenostemma Argel Extract on Dermanyssus Gallinae in Budgies (Melopsittacus undulatus)

Benmaarouf DK, Laieb A, China B, Khouchane N, and Ben-Mahdi MH.

World Vet. J. 13(2): 258-263, 2023; pii:S232245682300028-13
DOI: https://dx.doi.org/10.54203/scil.2023.wvj28

ABSTRACT: Dermanyssus gallinae (D. gallinae) is an important ectoparasite in veterinary and human medicine due to its role as a vector of infectious disease-causing pathogens and its economic impact. The present study reported the infestation of 45 budgies (Melopsittacus undulatus) reared in an aviary at the Jardin d'essai Zoo, Algiers, Algeria, showing signs of pruritus with sores due to itching. Skin samples were taken from the 45 budgies (26 females, 19 males), 26 nests, and an aviary containing the budgies were microscopically analyzed. The findings indicated the presence of D. gallinae (hematophagous mite) in all budgies and nests. To fight against this red mite, a treatment based on the Solenostemma argel (S. argel) aqueous extract was implemented. The S. argel aqueous extract 2% showed a fast and effective influence on D. gallinae mites present in the budgies, nests, and aviary. The aqueous extract of S. argel leaves could be a good candidate in the fight against red mites.
Keywords: Aqueous extract, Budgie, Dermanyssus gallinae, Solenostemma Argel

[Full text-PDF] [Crossref Metadata] [Scopus] [Export from ePrint] [How to Cite]
---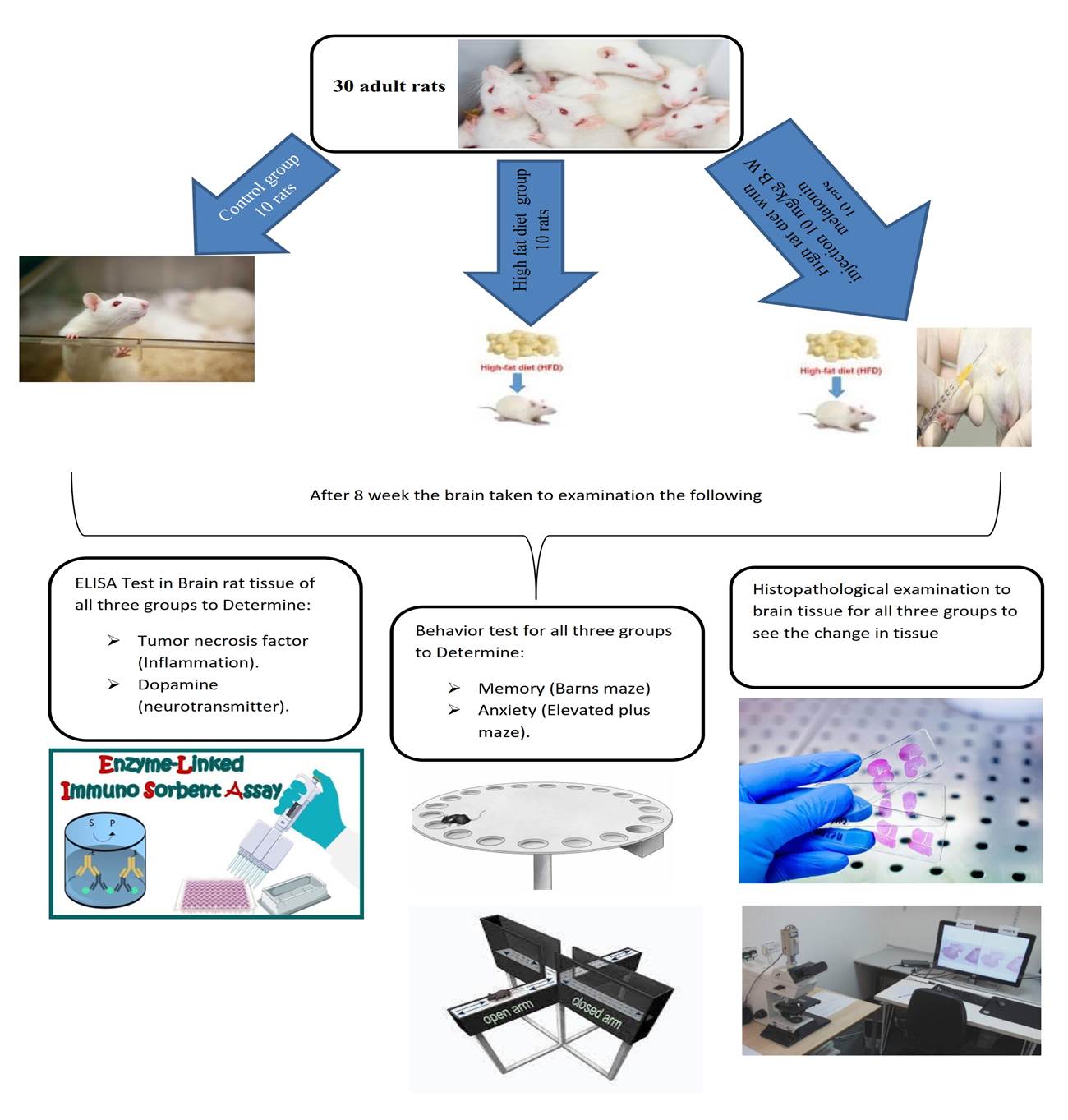 Research Paper

The Protective Effects of Melatonin against Brain Disorders Induced by the Western Diet in Male Rats

Rayshan AR, Abdulwahid AA, and Alsaedi AA.

World Vet. J. 13(2): 264-284, 2023; pii:S232245682300029-13
DOI: https://dx.doi.org/10.54203/scil.2023.wvj29

ABSTRACT: Globally, the effects of consuming a diet rich in fat have gained great concerted attention. The current study was conducted to evaluate the protective effects of melatonin on neurological disorders induced by the western diet in rats. A total of 30 adult male white local Iraqi rats were randomly assigned to three equal groups, including control (CC), high-fat diet (HFD), and melatonin group (HFD+M, a high-fat diet along with intraperitoneal injections of 10 mg/kg body weight melatonin) for 8 weeks. The rats were analyzed in terms of brain tissue concentration of dopamine, tumor necrosis factor (TNF), and nervous system impairment using Barns maze task and elevated plus maze. The findings revealed a significant decline in the dopamine concentration of the HFD group after 8 weeks of treatment, compared to CC and HFD+M groups. Moreover, there was a significant increase in brain TNF-α concentration in the group fed HFD, compared with CC and HFD+M. Finally, the melatonin treatment significantly reduced spatial memory impairments and anxiety induced by HFD in rats. After 8 weeks, the histological examination revealed that brain section rats on an HFD indicated significant congestion in the blood vessels with marked cerebral edema, where there was a dilation of Virchow-Robin space, severe congestion, and infiltration of inflammatory cells in the meninges. The HFD+M groups showed normal meninges without any inflammatory exudate except for a few congestions in the blood vessels and no or mild vacuolations in the cerebral tissue, gliosis, and astrocytosis. In contrast, male rats fed an HFD showed vacuolation and aerophagia in brain tissue and a marked aggregation of the proliferation of astrocytes and a proliferation of microglial cells in the cerebral. In conclusion, HFD impairs brain neurotransmitters, induces pro-inflammatory changes, and affects learning ability and memory by changing the structure of neural tissue. Melatonin can ameliorate HFD-caused effects.
Keywords: Brain, High-fat diet, Inflammatory cells, Learning ability, Melatonin, Nervous system

[Full text-PDF] [Crossref Metadata] [Scopus] [Export from ePrint] [How to Cite]
---
Treatment Effects of Chitosan Nanoencapsulated Bromelain against Gastrointestinal Nematodes and Coccidia in Goats of Kenya

Daiba AR, Kagira JM, Ngotho M, Kimotho J, and Maina N.

World Vet. J. 13(2): 285-292, 2023; pii:S232245682300030-13
DOI: https://dx.doi.org/10.54203/scil.2023.wvj30

ABSTRACT: The management of gastrointestinal nematodes (GIN) and coccidiosis of livestock relies on the use of commercial anthelmintic; however, the excessive and frequent usage of these drugs has led to the substantial and dramatic development of anthelmintic and anticoccidial resistance. The present study aimed to evaluate the anthelmintic and anticoccidial efficacy of chitosan nanoencapsulated bromelain (CNB) against a wide spectrum of GIN and coccidia in goats. Additionally, the study assessed the safety of CNB in the goats. Bromelain was extracted from the pineapple peels and then encapsulated using chitosan. A total of 20 healthy male goats naturally infected with GIN and coccidia were used. The goats were separated into four treatment groups, with five goats per each. The CNB was orally administered at dosages of 270 and 90 mg/Kg, once daily for 60 days. Fecal egg counts (FEC), fecal oocyst counts (FOC), packed cell volume (PCV), aspartate aminotransferases (AST), alanine aminotransferases (ALT), urea, and creatinine were determined weekly. The goats were monitored for clinical signs daily, and their body weight was recorded weekly. The findings revealed that FEC reduction rates in the group that received 270 mg/Kg CNB and the group that received Albendazole were 73.41% and 79.54% at day 7 post-treatment. Also, the reduction of FOC in the group receiving 270 mg/Kg CNB at day 7 (84.12%) did not show a significant difference with Diclazuril (82.12%). The FEC and FOC were zero (reduction of FEC and FOC was 100%) at 28 days of treatment in goats treated with 270 mg/Kg CNB. During the monitoring period, no mortalities and no clinical signs were observed in the treated goats. The PCV, AST, ALT, creatinine, and urea levels for the goats in all groups were within normal limits. No pathological lesions were observed in the goat's organs. In conclusion, the results demonstrated that repeated (60 days) dosages of 270 mg/Kg had anthelmintic and anticoccidial effects and were safe for goats. The study recommends further investigation in a field setting involving more animals. This would allow the development of a novel product for managing helminthiasis and coccidiosis in ruminants.
Keywords: Anthelmintic, Anticoccidial efficacy, Bromelain, Chitosan, Encapsulation, Goat

[Full text-PDF] [Crossref Metadata] [Scopus] [Export from ePrint] [How to Cite]
---
Effects of Sumac (Rhus coriaria) Seeds and Exogenous Fibrolytic Enzymes on Wool Growth of Awassi Male Lambs

Al-Saadi MJ.

World Vet. J. 13(2): 293-299, 2023; pii:S232245682300031-13
DOI: https://dx.doi.org/10.54203/scil.2023.wvj31

ABSTRACT: Nutrition can have a significant effect on animal production. In recent years, many compounds have been widely used as feed additives to stimulate animals' appetites and consequently improve animal productivity. Exogenous fibrinolytic enzymes are one of these feed additives, which have been used as a digestive stimulant in different types of animals. Sumac (Rhus coriaria) seeds and leaves have been widely used as an appetite stimulant. Therefore, this study aimed to determine the dietary effects of using 0.3% exogenous fibrolytic enzymes and 3% of grinds Rhus coriaria seeds on wool production and some physical traits of the Awassi lambs. Twenty-four male Awassi lambs with an average age of 4 months were randomly assigned to four dietary treatments, each containing six animals. The control group received a basal diet equivalent to 2% of body weight. The second group received the same diet supplemented with 3% sumac (Rhus coriaria) powder. The third group received the basal diet supplemented with 0.3% exogenous fibrolytic enzymes (protease, amylase, and cellulase). The fourth group received the basal diet supplemented with both 3% Rhus Coriaria powder and 0.3% exogenous fibrolytic enzymes. The experiment lasted 130 days in the animal house belonging to the College of Veterinary Medicine in Iraq. Some wool traits, including wool staple length, clean wool weight, greasy wool weight, wool fiber length, and wool fiber diameter, were measured. The results revealed significant differences in all measured wool quality traits among the treated groups compared to the control group. The group receiving the diet supplemented with a combination of exogenous fibrolytic enzymes and Rhus coriaria powder exhibited the most significant improvements in wool growth, overall wool production, and physical characteristics. These findings highlight the potential of using exogenous fibrolytic enzymes and sumac as effective appetite stimulants and enhancers of wool production in Awassi lambs.
Keywords: Awassi Lambs, Fibrolytic enzymes, Staple, Rhus Coriaria, Wool

[Full text-PDF] [Crossref Metadata] [Scopus] [Export from ePrint] [How to Cite]
---
Semen Cryopreservation Quality and Sperm Kinematics of Saanen Goats Using Different Diluents

Nisfimawardah L, Firmawati A, Ihsan MN, Susilawati T, and Wahjuningsih S.

World Vet. J. 13(2): 300-309, 2023; pii:S232245682300032-13
DOI: https://dx.doi.org/10.54203/scil.2023.wvj32

ABSTRACT: The success of artificial insemination (AI) in small ruminants, especially goats, depends on the quality of frozen semen. Therefore, the current study aimed to determine the quality of various diluents, including tris-egg yolk, AndroMed®, and OviXcell®, on semen quality. The fresh semen samples from three male Saanen goats aged 1.5-2 years were collected and the mean individual motility of samples was recorded at 70%. The cryopreservation quality of the semen was evaluated based on motility, viability, abnormality, and total sperm motility (TSM) indexes. The present laboratory experiment was performed with 3 treatments and 10 repetitions. The treatments in this study were T0 (tris-egg yolk), T1 (AndroMed®), and T2 (OviXcell®). The results showed no significant difference in the parameters of motility, viability, abnormality, and TSM among the treatment group. The kinematic parameters' average path length, velocity curved linear, and linearity showed a significant difference in all treatment groups. However, there were no significant differences among the three groups in terms of motility, progressiveness, distance curved line, distance straight line, average velocity path, velocity straight line, straightness, amplitude lateral head, beat cross frequency, and wobble kinematic parameters. Motility was higher in T2 than in T0 and T1, viability was higher in T1 than in T0 and T2, and abnormality was lower in T1 than in T0 and T2. In conclusion, the use of various diluents, such as tris-egg yolk, AndroMed®, and OviXcell®, can maintain the quality of frozen spermatozoa for over 24 hours, including motility, viability, abnormality, and TSM. Kinematic parameters obtained using CASA IVOS II can provide relevant information for various parameters using these diluents.
Keywords: Computerized Assisted Sperm Analyzer, Goat's sperm, Saanen goats, Semen quality, Sperm cryopreservation
[Full text-PDF] [Crossref Metadata] [Scopus ID: ] [Export from ePrint] [How to Cite]
---
Prevalence of Intestinal Protozoa in Pigs of Northern Black Sea Region, Ukraine

Bohach O, Bogach M, Panikar I, Antipov A, and Goncharenko V.

World Vet. J. 13(2): 310-317, 2023; pii:S232245682300033-13
DOI: https://dx.doi.org/10.54203/scil.2023.wvj33

ABSTRACT: Intestinal protozoan parasites threaten the health and welfare of pigs and impair the sustainability of pig farms, resulting in monetary losses. The present study aimed to determine the distribution of protozoa in large white pigs in the farms of Odesa, Mykolaiv, and Kherson regions in Ukraine. The parasitological surveys were conducted from March 2020 to March 2022 on three types of farms, including four large farms (> 100 sows), six medium farms (25-100 sows), and eight small farms (< 25 sows). A total of 3938 fecal samples from pigs of various age groups, namely 0-2-month piglets, 2-4-month piglets, pigs on fattening, and sows, were examined. Eimeria and isospores were determined using McMaster's method in Raynaud's modification, cryptosporidia by staining smears, blastocysts by the method of ethyl acetate-formalin concentration, and direct microscopy. The recorded protozoa were species Eimeria spp., Cystoisospora suis (syn. Isospora suis), Balantidium coli, Cryptosporidium spp., Blastocystis spp. These species of protozoa were observed in 31.1%, 49.0%, and 58.8% of pigs in large, medium-sized, and small farms, respectively. The findings indicated that Isospora suis and Eimeria spp. were most commonly present in piglets aged 0-2 months in large (29.7% and 23.0%, respectively), medium (32.3%, 29.4%), and small farms (30.0%, 13.5%). Balantidium coli was not registered in pigs from large farms, and in piglets 2-4 months old from small farms, the prevalence of infestation was 17.2%. Cryptosporidium spp. and Blastocystis spp. were mostly recorded in piglets 2-4 months old from small farms (16.2%, 7.1%). In large and medium-sized farms of the Northern Black Sea region, mono infestations were recorded the most (73.6%, 72.0%), while mixed two-component infestation dominated (52.5%) small farms. Intestinal protozoa should be considered in the differential diagnosis of intestinal disorders as major factors or concomitant intestinal pathogens.
Keywords: Age, Animals, Black Sea, Intestinal protozoa, Prevalence

[Full text-PDF] [Crossref Metadata] [Scopus] [Export from ePrint] [How to Cite]
---
Phylogenetic Analysis and Detection of Drug Resistance Gene in Theileria annulata Isolated from Buffaloes

Fadel ShR, Abed HH, and Alhaboubi AR.

World Vet. J. 13(2): 318-323, 2023; pii:S232245682300034-13
DOI: https://dx.doi.org/10.54203/scil.2023.wvj34

ABSTRACT: Bovine theileriosis, caused by Theileria annulate, is disease affecting cattle and buffaloes worldwide. The current study aimed to screen the blood samples of 30 naturally suspected local buffaloes infected with Theileria species. The blood samples were initially examined by light microscopic and then the positive samples were subjected to PCR reactions. All 30 animals indicated clinical symptoms, such as high fever, loss of appetite, the presence of the hard tick, and enlargement of lymph nodes. The amplified products of 18S rRNA were analyzed, along with molecular detection of the drug-binding site alterations and interrelated changes in the cytochrome b (cyto b) gene. Blood smears revealed the presence of infected erythrocytes with Theileria spp. The PCR results confirmed infection in samples when DNA amplified with partial 18S rRNA and cyto b genes. The sequencing data were obtained from GeneBank using the accession numbers OM937770.1, ON207523.1, ON207525.1, ON207524.1, ON207526.1, and ON207527.1 Following BLAST analysis (Basic Local Alignment Search Tool), genetic differences were observed between the Iraqi isolate OM937770.1 and strains from India, Iran, and Turkey. The data obtained from the current study may reveal the genetic alteration of the local strain in the drug-target codons, which are found in one isolate and are different from the GenBank isolates. The results suggest that the failure of buparvaquone therapy might be due to the resistance to cyto b gene.
Keywords: Buffalo, Buparvaquone, Gene, Theileria annulata

[Full text-PDF] [Crossref Metadata] [Scopus] [Export from ePrint] [How to Cite]

---
Protective Role of Rosa damascena Miller hydroalcoholic extract on Oxidative Stress Parameters and Testis Tissue in Rats Treated with Sodium Arsenite

AKhorasgani EM, and Mahdian Sh.

World Vet. J. 13(2): 324-331, 2023; pii:S232245682300035-13
DOI: https://dx.doi.org/10.54203/scil.2023.wvj35

ABSTRACT: Regarding the strong antioxidant properties of Rosa damascene extract, this study aimed to investigate the protective role of Rosa damascene Miller hydroalcoholic petal extract on oxidative stress parameters and testis tissue in rats treated with sodium arsenite. To this end, 30 male rats were divided into five groups, including control, positive control (treated with arsenite), and three groups of patients affected by sodium arsenite with 150 mg/kg, 300 mg/kg, and 450 mg/kg Rosa damascene extract for 34 days by gavage. The animals were then anesthetized, and the blood samples were collected from the heart. The left testis was removed for histopathological studies. The findings revealed that Sodium arsenite in the positive group caused a significant reduction in TAC, testosterone, and serum Luteinizing hormone (LH) and a significant increase in serum Malondialdehyde. In addition, there was no statistically significant difference among the groups regarding the amount of Follicle-stimulating hormone (FSH). Moreover, the consumption of Rosa damascene extract with sodium arsenite caused a significant increase in testosterone, LH, and FSH compared to the positive control group. Histopathological results showed that in the experimental group receiving a dosage of 300 mg/kg b.w and the control group, the number of sperm tubes increased, and the germinal epithelium's thickness was appropriate. Daily treatment with Rosa damascene extract with a dosage of 300 mg/kg b.w for 34 days could improve the changes caused by sodium arsenite and reduce Malondialdehyde levels. Thus, it seems that Rosa damascene hydroalcoholic extract can effectively improve the male reproductive system's function.
Keywords: Oxidative stress, Rats, Rose petals, Sodium arsenite, Testis

[Full text-PDF] [Crossref Metadata] [Scopus] [Export from ePrint] [How to Cite]

---
Protection of Khaki Campbell Ducks against Duck Plague Using an Inactivated Duck Plague Vaccine

Ahamed T, Sultana P, Rahman MZ, Bose P, Islam MR, Khatun MM, and Islam MA.

World Vet. J. 13(2): 332-340, 2023; pii:S232245682300036-13
DOI: https://dx.doi.org/10.54203/scil.2023.wvj36

ABSTRACT: Duck plague (DP) or duck viral enteritis is a fatal viral disease of ducks that causes huge economic losses in the duck industry. The present study was performed to determine the immune response and protective efficacy of an inactivated DP vaccine prepared from a local virulent DP virus. A virulent DP virus was obtained from the laboratory repository of the Department of Microbiology and Hygiene, Bangladesh Agricultural University, Mymensingh (Bangladesh). The DP virus (EID50 105.3/ml) was inactivated using 0.04% formalin. The alum (40 g/L) was added to the inactivated DP virus as an adjuvant. A total of 60 Khaki Campbell male ducks aged 17 weeks were randomly divided into three groups. Ducks of groups A (n = 20) and B (n = 20) were vaccinated intramuscularly in the breast muscle with 1 ml of inactivated DP vaccine and a live attenuated DP vaccine, respectively. Ducks of group C (n = 20) were kept as unvaccinated control. Booster vaccination was administered at 2 weeks after primary vaccination. Antibody titers of vaccinated ducks were measured at 7, 14, 21, and 28 days post-vaccination (DPV) using a passive haemagglutination (PHA) test. Ducks of both vaccinated and unvaccinated groups were challenged with 1 ml virulent DP virus (EID50 104.3/ml) at 28 DPV. Clinical signs, morbidity and mortality, and gross pathological lesions of vaccinated and control ducks were observed for 10 days post-challenge to evaluate the protective efficacy of inactivated DP vaccine. The mean PHA antibody titers of vaccinated ducks of group A at 7, 14, 21, and 28 DPV were 5 ± 0.43, 26 ± 1.71, 43 ± 3.4, and 54 ± 3.28, respectively. Ducks in group B had mean serum PHA antibody titers of 21 ± 1.71, 41 ± 3.28, 52 ± 3.41, and 84 ± 7.25 at 7, 14, 21, and 28 DPV, respectively. No mortality or gross pathological lesions were observed in vaccinated ducks after they were subjected to a challenge infection. Additionally, no significant difference was observed between groups A and B in terms of the challenge infection. The mortality rate of the control group of ducks was 70%. Hemorrhage in the trachea and intestine and necrotic foci in the liver were seen in unvaccinated control ducks (group C). Experimentally developed inactivated DP vaccine induced a protective serum antibody titer and conferred 100% protection against virulent challenge infection up to 10 days observation period.
Keywords: Duck plague, Khaki Campbell, Protective efficacy

[Full text-PDF] [Crossref Metadata] [Scopus] [Export from ePrint] [How to Cite]
---
Effects of Commercial and Homemade Extenders on Post-thaw Sperm Quality and Fertility of Semen from Ethiopian Indigenous Horro Chicken Breed
Getachew T, Goshu G, and Lemma A.

World Vet. J. 13(2): 341-347, 2023; pii:S232245682300037-13
DOI: https://dx.doi.org/10.54203/scil.2023.wvj37

ABSTRACT: Cryopreservation of spermatozoa represents an important strategy for in vitro programs designed for the conservation of the genetic material of livestock populations. The objective of this study was to evaluate the effects of homemade tris-egg yolk-based and commercial poultry semen extenders on post-thaw sperm quality, fertility, and hatchability of semen from the Ethiopian Indigenous Horro chicken breed. A total of 30 roosters were used for semen collection, and 160 adult hens were inseminated artificially. The collected, qualified, and pooled semen samples were divided into three groups. Each semen sample was diluted with a homemade tris-egg yolk-based extender, Dimethyl-formamide commercial extender, and Commercial Beltsville Poultry Extender. Each extended semen was further divided into 20 sterile tubes as replicates. The extended semen samples were cryopreserved in liquid nitrogen using standard procedures. Changes in post-thaw spermatozoa mass and progressive motility, in vitro viability, morphological abnormality, fertility, and hatchability were evaluated. The post-thaw evaluation showed a decrease in the mass and progressive motility, morphologically normal spermatozoa, and an increase in dead spermatozoa and spermatozoa with bent necks, compared to fresh semen. There were significant differences in progressive sperm motility, motility, and in vitro viability between commercial and homemade cryoprotectants. However, no significant difference was observed in mass motility across the extenders. The commercial Dimethyl-formamide extender was found to be the most suitable regarding the proportion of morphologically normal sperm and in vitro viability rate of cryopreserved sperm samples. There were no significant differences across all treatments in terms of fertility and hatchability rate. However, there was a significant difference between the control treatment and commercial extenders in terms of fertility and hatchability. The findings indicated favorable outcomes for a tris-egg yolk-based extender that was prepared locally with regard to the cryopreservation of poultry semen. Additional investigations are recommended to enhance the fertility and hatchability of the semen.
Keywords: Cryopreservation, Horro, In vitro viability, Morphology, Motility, Semen, Sperm

[Full text-PDF] [Crossref Metadata] [Scopus] [Export from ePrint] [How to Cite]
---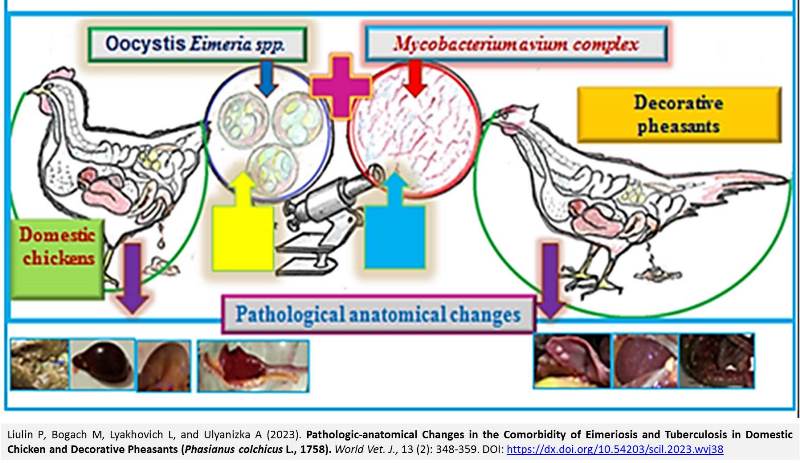 Research Paper
Pathologic-anatomical Changes in the Comorbidity of Eimeriosis and Tuberculosis in Domestic Chicken and Decorative Pheasants (Phasianus colchicus L., 1758)
Liulin P, Bogach M, Lyakhovich L, and Ulyanizka A.

World Vet. J. 13(2): 348-359, 2023; pii:S232245682300038-13
DOI: https://dx.doi.org/10.54203/scil.2023.wvj38

ABSTRACT: The study of patho-anatomical changes is essential in identifying pathological processes and diagnosing especially comorbid pathologies. The aim of this study was to reveal pathological changes and differences in the spontaneous comorbidity of tuberculosis (Mycobacterium avium) and eimeriosis (Eimeria spp.) in adult chickens and ornamental pheasants. The paper highlighted the results of pathological-anatomical changes in adult domestic chickens (n = 17) and ornamental pheasants (n = 5) with spontaneous comorbidity of eimeriosis and tuberculosis. Mycobacteria was detected using bacterioscopy of smears-prints from fragments of organs and Eimeria oocysts were detected by the Füllenborn flotation method. In pheasants, tubercular granulomas were found in the intestine, liver, and spleen in combination with scarring and swelling of the wall and mesentery, and venous stasis in the mesenteric vessels. In addition, hematomas and organ destruction in the liver and spleen were found in pheasants. In domestic chickens, tuberculous granulomas and steatosis were found in the liver. In the intestines, there were indications of mucocatarrhal inflammation, edema, hyperplasia, and small hemorrhages in the area of the cecal-intestinal diverticulum. Tuberculous nodules, internal hemorrhages around the perimeter of the tubercle, and devascularization were observed in the spleen. The present study revealed notable differences in the pathological and anatomical changes resulting from the comorbidity of eimeriosis and tuberculosis in domestic chickens and pheasants.
Keywords: Avian tuberculosis, Comorbidity, Eimeriosis, Intestine, Liver, Pathological change, Spleen
[Full text-PDF] [Crossref Metadata] [Scopus] [Export from ePrint] [How to Cite]
---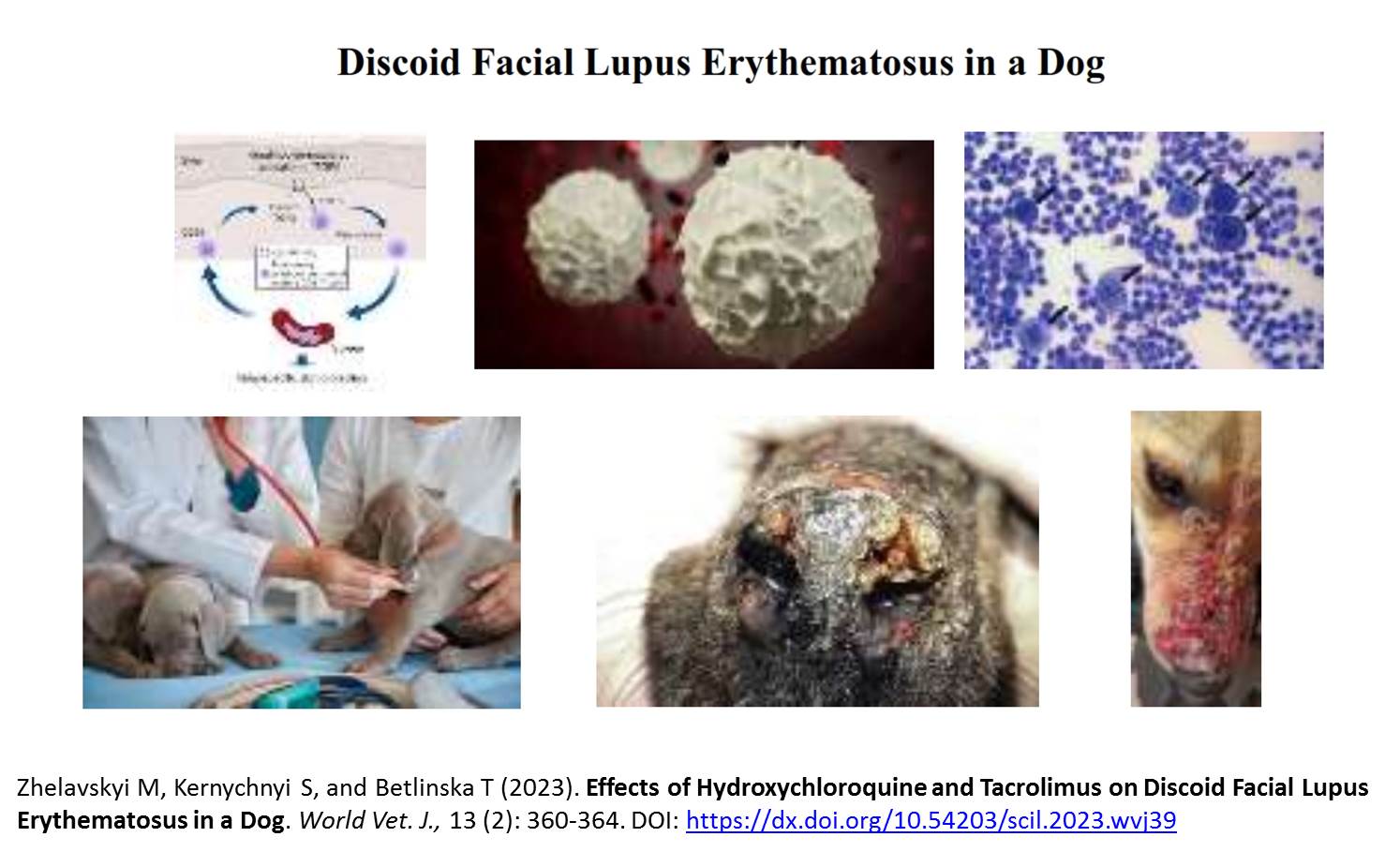 Research Paper
Effects of Hydroxychloroquine and Tacrolimus on Discoid Facial Lupus Erythematosus in a Dog
Zhelavskyi M, Kernychnyi S, and Betlinska T.

World Vet. J. 13(2): 360-364, 2023; pii:S232245682300039-13
DOI: https://dx.doi.org/10.54203/scil.2023.wvj39

ABSTRACT: Discoid lupus erythematosus is lupus in dogs an autoimmune disease that affects the skin. A 6-year-old, 38 kg, male German Shepherd dog was taken to the Small Animal Hospital at the University in Kyiv, Ukraine with a history of progressive skin lesions. The indications of discoid lupus erythematosus in dogs manifested as red, scaly macules or papules on the skin's surface. These gradually develop into follicular plugging, disc-shaped plaques with adherent scales, and peripheral hyperpigmentation. The oral hydroxychloroquine was used for medication and the prescribed dosage was 5.0 mg per kilogram of the dog's weight, administered once daily. The hydroxychloroquine was gradually reduced and discontinued within a month. Concomitant with the hydroxychloroquine treatment, the application of tacrolimus cream (Protopic® 0.03%) was initiated. The veterinary physician also advised the dog owner to limit sun exposure to avoid any adverse effects. After a four-week period, there was a decrease in pruritus and erythema, and plaques had flattened although the skin still had some patchy hyperpigmentation. Approximately 3-4 weeks later, the veterinarian determined that the dog had achieved clinical remission as all the skin lesions had become completely flattened. The use of deproteinized calf blood extract gel (Solcoseril® Gel for external 4.15 mg/1 g, Legacy led to the complete disappearance of the initial redness and prevented the appearance of new skin lesions. These results can be considered as a safe and effective alternative to conventional treatment methods.
Keywords: Dog, Discoid lupus erythematosus, Treatment
[Full text-PDF] [Crossref Metadata] [Scopus] [Export from ePrint] [How to Cite]
---
Previous issue | Next issue | Archive

This work is licensed under a Creative Commons Attribution 4.0 International License (CC BY 4.0).